Lunes y cerca ya del Dia de Todos los Santos , es decir cambio de la hora y esas cuestiones que suelen anunciar la llegada de las Nieves. Desde aquí no anunciamos meteorología aunque si tempestades ,vientos, terremotos y huracanes sonoros de la mano de nuestras CRIATURAS SALVAJES. La semana pasada desataron sus furias una de esas bandas que por el apoyo mediático recibido ( y por supuesto por la calidad de su obra )  eran THE VELVETEERS y su oscuro glam and punk  y siguiendo con la perseverancia punk and glammy sólo que en esta ocasión con más fuzz y desmadre sónico, nunca bien ponderado Killer de la escritura rockera , Don César Aka Púpilo Dilatado nos dejó muestra de POOR LITTLE THINGS , así pues basta con darle al Home o al buscador y Voila .. a volarte los sesos 
Para iniciar la semana pues nada mejor que visitar una ciudad que ya es cuasi propia como es Los Ángeles y gratificarnos de la vuelta tras una prolongada ausencia de la querida y adorada CRISTINA LOPEZ, es decir de la banda THE HELLFLOWERS  Abrochense los cinturones que vamos a la autopista del punk  con aromas spectorianos
Punk Rockers Los Hellflowers que provienen de Los Ángeles, California, EE. UU. y basicamente son la pareja formada por la Voz / Guitarra de Christina Hellflower y el Bajo de Matt Eskew al cual se unen la Guitarra  de Alex Mack y la Batería con  Stevyn Gray .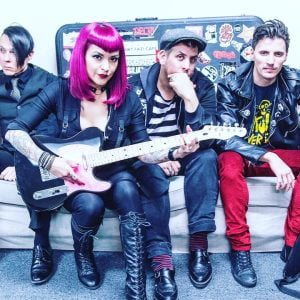 En marzo de 2016, The Hellflowers lanzaron su EP debut, "Come On Let's Dance!" grabado y producido por Dave Klein de Agent Orange y masterizado por Jamison Weddle (Red Hot Chili Peppers, Nils Lofgren) con una portada ilustrada por el famoso cartelista de San Francisco, Casey Castille y un posterior llamado Vacation , ambos dos verdaeros cohetes a reacción propulsados por gasolina que  huele a new wave, punk de los 80 y sonidos de girl groups de los 60s.  Los Hellflowers lanzaron su primer disco de vinilo de larga duración en julio de 2019 en Die Laughing Records, con el españolisimo título de POR VIDA que en el fondo no era más que una limpieza de lo mejor de los Eps previos con alguna añadidura para contentar a propios y extraños 
Por vida es un gran disco de punk vitalista , lleno de guiños a los primeros lps de Nikki and the Corevettes o de Blondie . Notables estribillos llenos de gancho comercial pop sin llegar a convertirse en un lp propiamente de pop punk a lo Dollyrots, por ejemplo .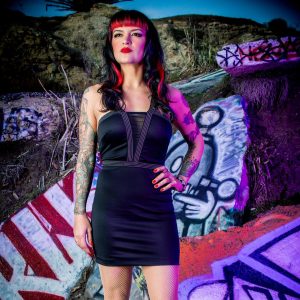 El disco se abre con su buque insignia C'mon Let's Dance que demuestra los auténticos  principios de la banda ( 60s , más Blondie ) en un tema arrebatador , mientras que el siguiente es The Call , un tema en plan Ramones en su versión más dura y contundente. Those Days su otro single de gran difusión es de nuevo la visión Debbie Harry de la banda . Una canción que  podía haber figurado en el Plastic Letters de la rubia  . Way  You See , es un buen medio tiempo con sabor a The Muffs que nos sirve para tomar resuello ante la llegada de otro de los pelotazos del álbum , el single I See You , con el mejor riff de guitarra de todo el trabajo . Tequila es la parte festiva y sesentera . Un tema a ritmo de mariachis y ritmos de las Shirelles . Gozada . Nightmare representa la parte más powerpop del disco y que bebe sus vientos por la new wave de los 80s  ( como se parece aquí la voz de Cristina a la Debbie Harry increible ) . Gone To Soon nos devuelve a los ambientes punk clásicos y el final nos presta a sonidos ramonianos con Johnny Jack and Jim . 
Tras este gran lp las perspectivas de la banda de un segundo lp se vieron truncadas como a tantas bandas por la llegada del bicho del todos conocidos sin embargo a finales del año pasado  editaron un tema Merry (I Don't Want to Fight Tonight) Christmas en el recopilatorio navideño de su sello y un par de covers como Civilization's Dying de los Zero Boys , el Slippin and Sliddin de Little Richards y el ultimísimo  Riot Squad de los Cock Sparrer con la colaboración de Gordy Carbone de la banda punkarra  Slip and The Forgotten que parecen anunciar un cierto viraje de los sonidos de la banda hacia lugares de punk más clásico si bien eso el tiempo ya nos lo dirá pues a la espera de un nuevo trabajo ansiosos estamos 
Para que su ansia sea un tanto calmada ya saben que hay la BOLA EXTRA para que sirva de brebaje curativo y calmante . Hasta la Semana… mejor les espero el Viernes que César vendrá con más y mejor ( aunque también pueden bucear por la web que no les va a morder o si… )