Ya parece que el calor se nos presenta anunciando por anticipado las vacaciones estivales pese a que nos encontramos en el mes de mayo pero esta situación climática no es impedimento alguno para que CRIATURAS SALVAJES siga con su ritmo  y recorrido incansable al desaliento . Basta comprobar las últimas incorporaciones a la filas para darse cuenta qua aún hay mucho camino por recorrer. Tras la fase de clásicas nos hemos puesto en caminos recién asfaltados primero con el grunge punk de CALVA LOUISE para proseguir con otras magnifica adquisición al club del peligro sonoro que César nos ha brindado la oportunidad de conocer , esa banda es GODSLEEP , quién de la mano de Amie Makris cogio una banda masculina de doom para convertirla en una maquina de rock fiero y punk con reminiscencias de los años 90 , todo muy Courtney Love salvaje 
Vamos con la parte de hoy que me toca y vamos a rebajar un tanto la intensidad para adentrarnos en un mundo de melodías y rock and roll a la antigua usanza con JUSTINE AND THE UNCLEAN , una de esas bandas de excelsa serie b que van lanzando discos y trabajos sin demasiada repercusión salvo para aquellos amantes del buen powerpop y pop punk que siempre atentos no dejan de apreciar su esfuerzo por endulzar la existencia sonora de cada uno 
De una de las ciudades favoritas del que suscribe a nivel musical , Boston, vienen esta banda formada por  Justine Covault (Malachite, Grand Theft Auto, Quest For Tuna). Ella está en la guitarra y la voz principal. A ella se une su compañera de banda Malachite Janet Egan King (Heidi, Swank, Tulips) en el bajo y los coros. Charles Hansen (Rock Bottom, Tom Baker & the Snakes, Gymnasium, The Handymen) está en la guitarra principal y  el legendario Jim Janota (Upper Crust, The Bags, Rock Bottom) está en la batería. En el 2017 enseñaron sus credenciales con un fantástico single formado por "Love Got Me Into This Mess"  , un tema de pop punk a lo Buzzcocks  y "Passive Aggressive Baby" de similares patrones .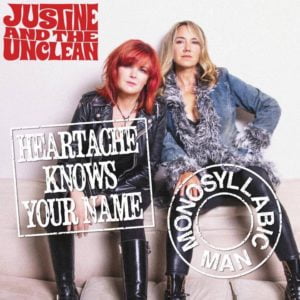 Tras la acogida del single se ponen en marcha para lanzar su primer lp y dentro de unas 50 canciones que Covault había compuesto deciden escoger 9 temas , bien pertrechados para ocupar el primer lp de la banda que se lanza en el 2018 bajo el título de GET CLEAN Grabado por Dave Minehan en Woolly Mammoth Sound en Watham, Massachusetts y masterizado por el ilustre Danny the K el  trabajo es una gozada de canciones de powerpop acelerado y rockandrolero donde el punk rock británico , las melodías beat y el rock usa de Joan Jett se juntan en buen maridaje Canciones como "Bring Me Fire" y "Worry Stone" son puro sonido  de Joan Jett . "Can't Pretend I Don't Know" es la canción una maravilla de powerpop song  mientras que "I'm In Love With You, Jackass" es rock and roll a la antigua usanza
No tardaron demasiado en seguir con nuevas andanzas vinílicas y así a finales del 2018 apareció su segundo trabajo grande ( realmente es un mini lp de 6 temas pues a la banda eso de alargar los productos en minutaje no va con ellos ) llamado HEARTACHES AND HOT PROBLEMS .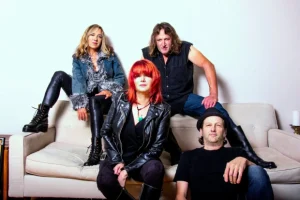 Siguen por mismo camino del precedente pero con un mayor cuidado en la producción por lo que solo podemos concluir en que se trata de una nueva gozada para los amantes del buen o buenisimo pop punk y powerpop de guitarras furiosas . Heartache Knows Your Name" y "Be Your Own Reason" son los dos hits en potencia con esa magia punk que imprimen pero como ocurría en el  previo  hay  Joan Jett en "Margaritas and Secondhand Smoke"; e incluso una balada preciosa  ("Love Doesn't Know A Thing" ) Si sumamos los dos disco obtenemos unos 15 temas realmente memorables que compondrían un larga duración realmente impactante . Sorprendentemente le costo a la banda recuperarse del periodo Covid pues tras estos dos primeras obras en total continuidad se nos aparece un letargo enorme ya que no hay demasiadas noticias de ellos ya que solo un gran single en el 2020 formado por  Picking a Fight /Sweet Denial y en el 2021 donde nos regalan un gran single bubblegunero  como era de imaginar llamado Scorpion Bowl To Go no hay demasidas noticias de la banda 
Por fin en este 2023 parece que despiertan y con The Chasm , un nuevo tema muy a lo The Who que acaba de  ser lanzado prometen ya un nuevo disco lp que se viene demorando desde hace años . Esperando que la noticia se concrete de forma fáctica y aparezcan la buenas nuevas seguimos apostando por esta banda que esta en la cúspide del planeta en cuanto al powerpop punk . Y es que Justine es mucha Justine . Les dejo con la BOLA EXTRA para que puedan seguir disfrutando de excitantes momentos de esta Criatura Salvaje emplazándoles para nuevas correrías de esta web