Tras una semana previo un tanto retro pop o mejor dicho retronewave que en términos generales viene de la mano del revival sobre los 80s que se ha ido instalando hace unos añitos con la aparición de Netflix y otros canales quienes decidieron rescatar los sentimientos y memorias de los cuarentones abonados de este tipo de canales , y es que la Criatura previa , ROXY DRIVE, tiene su punto de apoyo en ese rescate a eso sonidos nacidos en la época MTV y las pelis de serie b . Pues bien es hora de volver a ser un poco más CRIATURAS SALVAJES y regresar al mundo del ROCK , con las habituales mayúsculas con las cuales es identificable la palabra y ello de la mano de una banda que debuta estos días con su primer largo , su nombre PSYCHIC HIT
PSYCHIC HIT es una banda  de hard rockin proto-metal con sede en Oakland, California,  formada en 2017 por el guitarrista Andrea Genevieve (Queen Crescent, Purple Rhinestone Eagle) y la vocalista / violinista Ariana Jade (Hedersleben, Nik Turner's Hawkwind).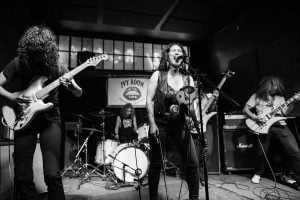 Habiéndose conocido a través de la red de rock n roll del Área de la Bahía . El resultado fue una banda que combinaría el poder puro de los primeros Judas Priest y Scorpions, la sensibilidad melódica de Fleetwood Mac y el atractivo esotérico 
En 2018, al dúo se unieron la bajista Melanie Burkett (Ovvl) y el baterista Justin Divver (Funeral Chant). Con la talentosa sección rítmica encerrada, los cuatro músicos comenzaron a embarcarse en una empresa de composición que resultó en su primera demo en el otoño de ese año . Una gran demo de 6 temas con temas impactante como The Whip, o The Fool muy en la línea del metal clásico caracterizado por los agudos vocales de Ariana como una mezcla de Rob Haltford y Mariska Beres . Después de que se grabó la demo, la banda dio la bienvenida al quinto miembro, Jake Palladino (Pins of Light, Hightower), para unirse a Andrea Genevieve en la guitarra.
Influenciado tanto por los grandes como por las rarezas de los 70, puede entenderse que forman parte de ese oscuro metal de personajes como Kadavar, Lucifer y Hällas. En estos días se publica SOLUTIO , el primer lp de la banda que además excluye lo aparecido en la demo demostrando que la banda ha mejorado ostensiblemente .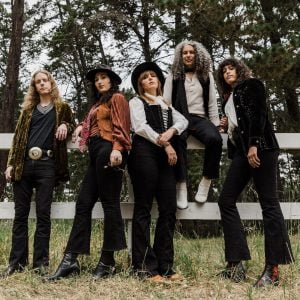 El albúm se inicia de la forma más clásica del metal  Livin 'On , con  los estilos de guitarra y sentimiento del primer Judas Priest. pero la entrada a la voz de Ariana Jade es todo un Shock que deja clavado al asiento. Los dos temas siguientes Constelation y Orocovis son extensas cada una no baja de los 6 minutos y se trata de los temas que más tienden a introducirse en los sonidos más actuales de bandas como las citadas Kadavar y cia . Left Of Hand ya regresa al classic que no abandonaran en los otros dos cortes   finales The Hand of Fate  y California Burnin que sin embargo se muestran mas en su aspecto oscuro y esotérico merced en el caso de la primera de las citadas por una intro de psicodelia oscura para dar paso a las cabalgadas guitarreras en las cuales la vocalista se desgañita como una posesa .Si te emociona pues estos primeros momentos del protometal o del metal más clásico a buen seguro que encontraras a esta nueva CRIATURA como una nuevo acto de fe 
Bien les dejo tras esta presentación de novedad con la habitual BOLA EXTRA para que puedan apreciar a  esta nueva banda que prometen emociones fuertes