No se a que esperan para disfrutar con las CRIATURAS SALVAJES de la semana pasada JAHNA LUND la frontwoman de la banda punk revelación de estos tiempos DEATH BY HORSE y sobre todo el enorme Versus que mi colega Cesar se ha marcado el pasado Viernes dedicado al post grunge o rock alternativo JORDAN WHITE  de los JANE N THE JUNGLE y CHELSEY LOUISE  de los FAIRY BONES  en un enfrentamiento brutal con resultado de tablas 
Para este lunes vamos a Santificarnos y Purificarnos adecuadamente con SAINT AGNES , o mejor con su lideresa , KITTY ARABELLA AUSTEN  que a buen seguro les va a devolver a la FE . 
SAINT AGNES, o Santa Ines de Roma , era una de las Grandes Mártires de la Iglesia Católica de historia sorprendente . Ines o Agnes joven Romana, Bella y Hacendosa , abrazo la Fe a Cristo lo que le llevó a rechazar a todos y cada uno de sus pretendientes hasta que por Orden del Emperador Diocleciano fue condenada por ser Cristiana a vivir en un Prostíbulo con el fin de perder su virginidad que tan celosamente guardaba. Milagro o no lo cierto es que durante su estancia en la Casa del Placer no perdió la misma ya que el único hombre que lo intentó perdió la vista. Como quiera que el castigo no resultó tal se decreto su martirio y muerte siendo degollada en Roma en el año 304.  Desconozco la razón de por qué KITTY ARABELLA AUSTEN y su partenaire John Tufnell decidieron tomar el nombre de SAINT AGNES para su proyecto musical lo que si es cierto es que al menos da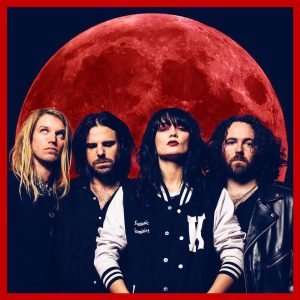 para empezar este post con una buena historia.
Los inicios de la banda datan del 2014 cuando el meritado John Tufnell vio un concierto de la banda LOLA COLT , un excelente grupo  de estilo rock alternativo y post punk con dos lps Away From The Water en el 2014 y Twist Through The Fire  en el 2016 en el cual Kitty se encargaba de teclados y coros 
Lo que iba a ser un divertimento paralelo de Kitty acabo siendo la madre del Cordero y SAINT AGNES llega a ser el grupo de referencia de Kitty en el cual ella toma la voz cantante, teclados y guitarra . Un primer single en el 2014 OLD BONE RATTLES  en la cara A y un cover del ROADHOUSE BLUES de los Doors en la cara B abre el libro de Salmos . Influencias claras de la banda es el garage, rnb y el rock clásico con teclados omnipresentes 
Ese mismo año un segundo single A BEAUTIFUL DAY FOR MURDERS en la side A y la sensacional WHEN THE LIGHTNING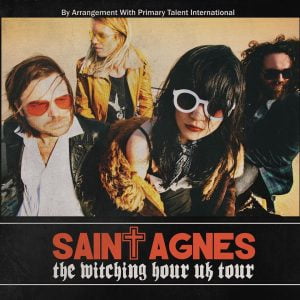 STRIKES sin duda el estilo va tomando forma con un gusto por la potencia y los riffs muy setentas e inspirados en los trabajos de Jack White en solitario.  Un LIVE UNDER LONDON , directo con los citados cuatro temas en el 2015 cierra la etapa de formación del grupo pues ya para el año 2016 el Blues Rock toma ya el mando con dos soberbios singles SISTER ELECTRIC y MERRY MOTHER OF GOD GO ROUND que presagían el buen porvenir que les deparara el futuro.
2018 ve la luz THE WITCHING HOUR nuevo single impactante con tonos satánicos y todo un mini lp THE DEATH OR GLORY GANG, con cuatro temas de los que sólo uno DEATH RIDES A BLACK HORSE no aparecerá en su recientisimo disco debut de larga duración WELCOME TO SILVERTOWN ( 2019 ) un lp que ha sido bendito por la crítica más rockera de los UK como de lo más destacado de este año algo que sin duda no voy a criticar porqué la razón les acompaña en esta ocasión sobre  todo si escuchamos ese duelo de guitarras en DIABLO , TAKE ME HOME ( tan White ), los ritmos y teclados tan 70's de MOVING THE GHOSTS, el blues rock oscuro de I GOT A DRUM, o la sensualidad rockera de I FEEL DANGEROUS AROUND YOU
Uno de los debuts del año es WELCOME TO SILVERTOWN y la confirmación de que SAINT AGNES se encuentra en plena canonización rockera . Bien hasta aquí el Santoral de Criaturas Salvajes por el día de hoy … aunque les insto a seguir con  más versículos de la vida de Kitty o Ines que les dejó a modo de BOLA EXTRA