Y se termino el 2021, un año rarete entre la ilusión y la deseperanza pero es lo que hay en esta humanidad y mundo tan convulso y al mismo tiempo a un ritmo aceleradisimo . Pero dejemonos de disquisiciones y vayamos a la  Bendita Locura de las CRIATURAS SALVAJES . Así en su homenaje y siguiendo la tradición de esta webpage toca el turno en  el DIA DE REYES de comprobar que nuestra a Carta a sus Majestades ha tenido su fruto y vemos que han cumplido como Verdadros Magos que son dejando a los pies del ärbol una nos dejen una SELECCION de canciones  inolvidables aparecidos en el 2021 . Hay canciones raras, versiones de temas inolvidables, Criaturas conocidas y otras ignotas para nuestros oidos- Hay hard rock ( mucho ), metal ( bastante ), punk rock ( otra buena ración ) , powerpop, rock and roll, garage …vamos .. todo lo que suena por estos lares . Todo ello con la duración de una de aquellas viejas casetes de antaño .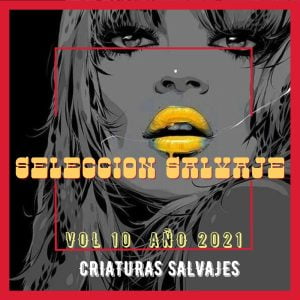 Se trata de una selección para que la disfruten solos o en compañia, en casa o en el coche , o… dónde les plazca pero les aconsejamos de forma encarecida que le den una oportunidad ya que nos jugariamos un potosi a que no quedaran defraudados en modo alguno . Va por Vds y sobre todo como homenaje a ellas, todas las que están en la cancha del rock más en estos tiempos . Desde CRIATURAS SALVAJES ( Angel, Cesar y Bernardo ) les deseamos UN FELIZ  AÑO 2021 …. y prometemos seguir apoyando a nuestras CRIATURAS otro año porqué a persistentes no hay nadie que nos tosa  
LISTADO DE BALAS SALVAJES 
01.- The Damn Truth – Tomorrow       02.- Strange Kind Of Women – Highway Star.
03.- Poor Little Things – Fire It Up.    04.- Halestorm – Long Live Rock.
05.- Curly Mane-I Need Rock and Roll 06.– Dorothy – What's Coming To Me.
07.- The Mavens – I Don't Believe In Love 
08.- Rebel Queens – Ride on Thru       09.- Hot Breath – Right Time.
10.- The Dirty Denims – Rock and Roll All Night.
11.- Cocktail Slippers.– Hush.            12.- Nat Simons – Big Bang 
13.- Amyl and The Sniffers – Hertz.   14.- Starbenders – No One Listened.
15.- Britt Black – She Sells Sanctuary. 16.- Speed Of Light – Kill The Vibe.
17.- Witch Fever – In the Resurrect     18.- Crawlers- Statues.
19.- Bones Uk– Skeletone.                  20.- Halsey – Honey.
21.- Wucan – Far And Beyond.             22.- Tower – Blood Moon
23.- Rina Sawayama–Enter Sandman 24.- Brunhilde – I'm Crying.
25.- The Pretty Reckless – And So It Went
26.- Sumo Cyco – Bad News.