Y seguimos por aquí otra semana más en esta su webpage dedicada al mundo del rock en feménino . La semana pasada a modo de pequeño resumén por si Vds se lo han perdido dedicamos la misma a la banda punk con melodías bubblegum y grunge llamada STUD COUNT mientrás que la segunda parte de la misma , el gran César se ha cubierto de su armadura metálica para meterse de lleno en las entrañas de ARCH ENEMY , lo cual es toda una aventura que no deben perderse en forma alguna 
Que nos queda para este post , pues nos vamos a tierras SUECAS prodiga en sonidos alternativos  Un trío que sin duda pica con veneno mortal, se llaman SNAKE .
Mia Johansson, compositora, vocalista principal y guitarrista.,Frankie, compositor, sintetizador y corista Y Tess De la Cour, escritora musical, baterista e ingeniera son SNAKE . Tres amigas con pasado musical diverso en grupos como Kamikaze, Meine kleine Deutsche, Nighterror, o  L' Obscurité encuentran una guia común y  se unen en esta avntura que tarda poco en dar fruto a principios del 2014. Snake solo tardó un mes en asegurar su primer concierto.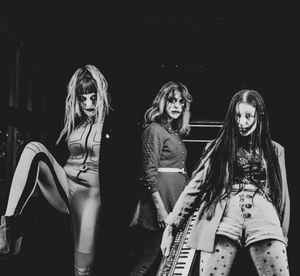 Y luego las reservas comenzaron a llegar de todas partes de Suecia, desde Umeå en el norte hasta más al sur. En 2014 compartieron escenario con labanda  punk china Fan Zui Xian Fa, así como con los favoritos de los medios hipster como Bass Drum Of Death y  a fines de abril de 2015 apoyaron a Refused en Debaser Strand en Estocolmo.Previo a su primer larga duración las chicas sacaron un primer single Sea Of Love /haunted en el 2015 siendo  su primer álbum completo "Cradle of Snake" lanzado  en octubre de 2015. Grabado/mezclado por Stefan Brändström en Studio Dustward, lanzado en Sounds Of Subterrania. Este primer largo es todo un compendio de sonidos postpunk con influencias garage y actitud riotgrrl . 13 canciones de origen post punk y muchos elementos electrónicos discurren por todos los surcos . Un tanto oscuro en su planteamiento sonoro pese a disponer de una versión del hit disco 90s de Corona , el archifamoso Rhythm of The Night que supone un soplo de aire entre Come Around, erase o dark mind volcanes de guitarras punzantes y sintetizadores 
Underdreams es el regreso en el 2022 tras varios singles previos  y se nota el paso de los años y la veteranía en comparación su primero  Underdreams es, sin duda, un álbum versátil siendo el post-punklo  te venga a la mente al principio, pero hay más como el punk rock contemporáneo,  el pop sintetizado, la música electrónica retro y el indie y mucho sabor a The Slits, Devo, Wire, X-Ray Spex, trabajos anteriores de The Cure, Siouxie And The Banshees, Joy Division, Depeche Mode y muchos más. otros.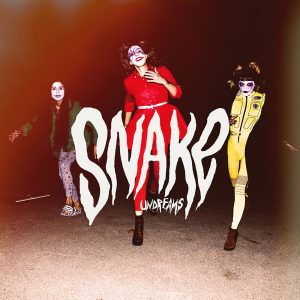 Fue grabado, como el anterior, por Stefan Brändström en The Dustward Studio de Estocolmo. Snake quería acercarse lo más posible a la atmósfera de la sala de ensayo y hacer del álbum un reflejo de lo que la banda escuchó y sintió durante los ensayos.  Un álbum más oscuro, pero más consistente y maduro  y con 4 o 5 temas realamente rompedores como singles ( Undreams, Smile, Make a Scene .. ). No puede negarse que el sonido de The Cure esta más presente que nunca y que sólo esa coz gatuna de Mia dotada de expresividad punk le dota de un alto grado de originalidad adolescente que brilla por todo el minutaje del álbum.  Hibernate es una joya  tecnoide de seis minutos y medio y  "Lost Girl" se mueve casi por caminos convencionales que quieren combinar el punk con el new wave mientras que  "Silence Violence" post punk de modelo clásico 42 minutos excelentes de modernas sintonias de agrio sonido pero fascinantes al fin al cabo 
Tras este repaso a Snake pues nada mejor que emplazarles a la BOLA EXTRA para más saber de las chicas y al próximo post álla para final de semana