Un año más llega San Valentín… ¡y no!, ¡no nos hemos equivocado de fecha!, como tampoco se nos ha ido la cabeza volviendo por despiste a la noche de Halloween. Nos vuelve a apetecer ir a contracorriente y demonizar la 'fiesta' de 'El Corte Inglés' planteando un 'Especial Criaturas Salvajes' muy alejado de lo que todo el mundo esperaría musicalmente en el dia de Cupido, relacionado con tonadas románticas, babosillas baladas y medios tiempos versados en el 'me quiere/no me quiere'. Somos unos traviesos aventureros tocapelotas en estas lides y os queríamos sorprender, por segunda vez, con un intención inquietante y oscura antagonista al día de autos. En esta selección, gestionada como siempre a pachas entre Bernardo de Andrés, Ángel Ferrer y un servidor, te verás atrapado y embuelto en una vorágine de 'Demon Girls' que te seducirán sin remedio con sus cánticos Stoner Rock, Doom, Vintage Rock, Grunge, Alternative Rock, Metal, Heavy Psych, Gothic e incluso claras incursiones en el Progresivo más hipnótico y neblinoso… vamos… que tocaba plantear la faceta más diabólica, densa y retorcida de nuestras CxS's, que tuvimos a bien reservarnos y no listarlas en el 'Especial de Reyes' en el que se plantearon otros estilos, digamos, más 'ligeros' y luminosos.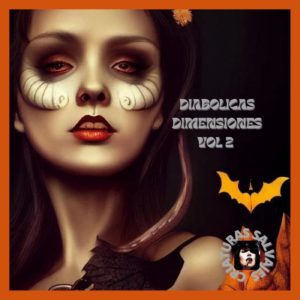 Os encontráis delante de un tracklist de 36 CxS's, dilatado en minutaje por la propuesta estilística planteada, que está pensado y requetepensado, con momentos/bloques más atmosféricos y de clara onírica setentera, a otros más esquizoides escupiendo toda la furia del Infierno; otros en los que claramente olerás la basta extensión de dunas del desierto de Joshua Tree y otros en los que te vas a sentir claramente seducido y tentado por las sombras más inquietantes y las sustancias más alucinógenas. En definitiva, una selección para 'putear' al hijo de Venus y Marte como bien merece en la que se dan cita tanto Criaturas Internacionales como una generosa (y obligada) selección de 'Spanish Bombs' (Weddings, Sulcus, Maltine, Grima, Yoko Factor, Vanity Rose, Bones Of Minerva, Rosy Finch, BALA, Mamvth, Eternal Psycho y BIS·NTE), con material 'sensible' y de última cosecha, la de 2022, generando un ritual 'Sabbathico' de poco más de dos horas y media. Esperamos que las disfrutéis entre crucifijos invertidos, ajos 'a tutiplén', biblias de Anton Lavey, parajes angostos y lúgubres, vastas extensiones de Arrakis y toneladas de ayahuasca administradas en razonables dosis…
Encontraréis para su escucha el 'Listado' en el link de Spotify de aquí abajo o en Ivoox, si tenéis a bien deleitaros con los sonidos de estas mujeres y bandas que pululan por estas tierras tanto en superficie como en la más absoluta de las cavernosas profundidades del Averno…
Posdata: Os pediríamos encarecídamente que nos dieseis en Spotify un 'Corazón Verde', no os cuesta nada, tendréis esta Playlist alojada en vuestra cuenta y a nosotros nos ayuda mucho a difundir 'La Palabra Salvaje' en esta plataforma. Gracias de antemano.
LISTADO DE 'DEMON GIRLS':
01.- The Black Mirrors – Hateful Hate, I'll Kill You
02.- Weddings – Talk Is Cheap
03.- Hell Bruizes – Painkiller
04.- The Black Wizards – Rings Can't Buy Your Dreams
05.- Sulcus – Angry Blues
06.- Maltine – Hazlo
07.- Bad Heritage – Savoiur Control
08.- Grima – Not Ready
09.- Yoko Factor – Deep in a Hole
10.- Vanity Rose – Obsession
11.- Messa – Rubedo
12.- Bones Of Minerva – Fuego
13.- Rosy Finch – Purgatorio
14.- Witch Fever – Blessed Be Thy
15.- Grima/BALA – Sed
16.- Wucan – Don't Break The Oath
17.- The Riven – Fly Free
18.- Ruby The Hatchet – Thruster
19.- Siena Root – Confidence & Fate
20.- Kabbalah – Dead Eyes
21.- Frayle – Treacle & Revenge
22.- Reverend Mother – Locomotive
23.- Pristine – The Devil You Know
24.- Mamvth – B.L.U.
25.- Alunah – Strange Machine
26.- GAUPA – RA
27.- The Neptune Power Federation – Emmaline
28.- Electric Hydra – Eyes Of Time
29.- Cobra Cult – Don't Kill The Dark
30.- Hoaxed – The Call
31.- Lesbian Bed Death – Sabrina
32.- Eternal Psycho – The Living Dead
33.- BIS·NTE – Mother Nature
34.- Crypta – I resign
35.- Arch Enemy – Handshake With Hell
36.- Decapitated/Jinjer – Hello Death