Perdonen por la tardanza pero es que las ocupaciones ineludibles de índole laboral me han impedido tener la habitual presencia de los lunes . Y es un poco una lástima ya que es la SEMANA SPANISH BOMBS , o sea que esta semana va dedicada a CRIATURAS SALVAJES nacionales , algo que estamos encantados de ofrecerles pues visto el estado de la nación nuca mejor recibido un  poco de apoyo para todas ellas. Antes de empezar recordarles que la semana pasada hemos tenido dos criaturas que sin duda se encuentran en polos opuestos musicales ( si bien las dos más que sobresalientes cada una en lo suyo ) por una parte el country folk o el folk rock de PEARL CHARLES y por el otro lugar el doom metal de CRYSTAL SPIDERS con Brenna Leath a su frente . Yo de Vds no me perdería por nada en el mundo ambas propuestas 
Pasemos a la acción y aterricemos en la piel de toro y concretamente a una de las tierras dónde la crianza del morlaco es tradición. Nos referimos a Extremadura y vamos a celebrar una pequeña orgía de sonidos de clásico rock 70s de la mano del cuarteto SPIN OFFS con Maria Monterroso como voz cantante 
La banda SPIN OFFS formada María Monterroso (Vocales ); Victor Sánchez al bajo, F.J. Pérez a las baquetas  y David Andrino a las seis cuerdas , sin duda no puede decirse que no amen el rock clásico ya que desde sus inicios como banda han ofrecido  espectáculos dónde recogían versiones de la era dorada del rock, como Jefferson Airplane,  Led Zeppelin y semejantes .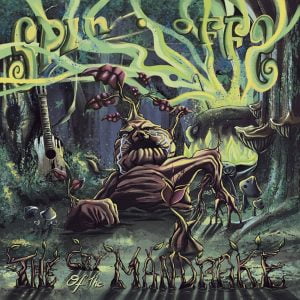 Por fin en marzo de 2020 lanzan su primer trabajo 'The Catcher in the Rye' (El Guardian entre el Centeno), un trabajo autoproducido con cinco temas deudores de bandas como Free, Humble Pie o Faces por ese amor a ese hard blues que se encuentra en sus entrañas , basta escuchar ese Prison para darse cuenta de lo expuesto . La voz profunda , de corte Janis Jolin , de Maria permite al grupo desarrollar a la perfección los canones del classic rock de finales de los 60 y el primer quinquenio de los 70 . No dudan tomar su parte del soul como ocurre en  Mr Vane para dar una mayor variedad a su propuesta y mostrar que son capaces de tomar al asalto cualquier genero que tengan a bien proponerse dentro de las tendencias del vintage rock  
A finales del pasado año 2020 han tenido la dulce osadía en pleno pandemonium de lanzar un single con el clásico de Willie Dixon , Spoonful que tantas y tantas bandas han dejado bajo su impronta , contando en esta ocasión de la ayuda del bluesman Gene García y el piano de David Carbonell y que nos servía de toque de atención o aperitivo para el segundo EP del cuarteto que acaba de ver la luz hace escasos días bajo el nombre de THE CRY OF MANDRAKE'. 
6 temas que no hacen más que apuntalar el sonido ya ofrecido en su debut componen este segundo trabajo siempre bajo el dominio de la portentosa voz de su cantante María Monterroso que se vuelve a lucir sobremanera bajo los ritmos  hard-rock, soul y el blues que son los ingredientes del cuarteto . Rock potente como Comin Through The Rhye o ese bestial cierre que es Exquisite Corpse  , soul blues en Quarantine Song , ecos a Blue Pills en la excelsa Woman's Hell ; hard blues con tintes stoner  en Blues Back; o psicodelía en la canción que da título al trabajo. No me cabe la menor duda que este mini lp debe ser lo que aupé al cuarteto hacía escalones más altos en la escena nacional ya que estoy convencido que todos los seguidores del vintage rock o retro rock  abrazaran de manera entusiasta demostrando que no sólo los grupos nórdicos y sajones son capaces de ofrecer una calidad sobresaliente dentro del género 
Lo dicho una gran nueva banda, una enorme vocalista posiblemente sin parangón en la escena nacional y un trabajo que acaba de ver la luz que merece una larga trayectoria de reconocimientos por parte del público rock . Por si no tienen bastante les dejo con la BOLA EXTRA para demostrarles que aquí hay un filón de oro