Regresamos .. con dolor de corazón por cuanto ha terminado el descanso estival y hasta dentro de una anualidad no volveremos a encontrarnos con el Arte de No Hacer nada que para un servidor es el acto humano más dignificante y placentero sin embargo como se dice que no hay Mal que por Bien no venga es el REGRESO DE CRIATURAS SALVAJES , es decir la webpage dedicada en exclusiva a las Mujeres en el Rock ( si bien nos tomamos las debidas licencias en ocasiones respecto a lo que es esto del Rock  Así que retomamos la marcha tras una inactividad recordándoles que unos días atrás les dejamos por estas tierras uno Merodeos y una RECOPILACION VERANIEGA DE AUDIO llena de Clásicos del AOR en Femenino por si desean rescatarlas o tomar conciencia de su existencia
Manos a la obra y dejémonos ya de presentaciones más que innecesarias pues lo que importa es la Música y no mi rollo afectado por la depresión postestival . Para iniciar el comeback y nuevo curso nos vamos a Minneapolis con algo de lo más clásico como son las bandas de mujeres con las Runaways como espejo , siendo en este caso las elegidas las REBEL QUEENS (Con ese nombre no engañan por dónde van sus gustos e influencias )
 Rebel Queens fue formada por Tiffany Beamer (voz principal) con una fuerte influencia de la banda femenina de los 70, The Runaways allá por el 2011. La formación actual incluye a Tiffany Beamer (Voz principal), Danielle Pearson (Batería / Voz), Katie Wyrd (Guitarra / Voz), Pika (Bajo) y Stevvie Mora (Guitarra principal). Pese a llevar varios años pateandose los clubes de Minneapolis no fué hasta el 2016 , ya con una formación estable cuando lanzaron su primer sencillo, "Waiting Up for You", tema claramente basado en los Riffs de la Jett y Cia  seguido del EP It's Reigning Rock N Roll en el 2017 conteniendo la meritada canción del single previo como Wicked Bxtch , el temazo de Best Thing, y la metálica  Wings Of Darkness .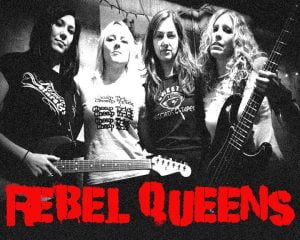 Su siguiente lanzamiento de EP, Wild Ride , presentó el sencillo y poderoso himno "Hey Yeah"cuyo  video musical con refrencias clásicas a rebeldes roadmovies   de autos y motocicletas apareció en los mejores videos locales de City Pages. Los otrso dos temas del disco son ya inferiores en calidad si bien la balada Moon Child con una formula hard rock mantiene un nivel notable
En 2021, Rebel Queens comenzó su décimo aniversario con otro video de corte road movie , "Ride On Thru".  Esta canción fue recogida por una gama más amplia de radio y prensa que permitió que el verano de 2021 trajo el último sencillo "Roll The Dice", preludio del reciente  tercer EP  Remember Rock N Roll. 
A pesar de perder a su guitarrista principal antes de la grabación, este lanzamiento es su obra más compacta ya que los dos singles aparecidos disponen de un verdadero potencial y los otros dos temas que lo acompañan , una sorprendente versión del Smokin del grupo Boston y Eldorado, en forma de medio tiempo classic rock con estribillo permiten alumbrar que el grupo se encuentra en pleno momento de inspiración rockandrollera y con capacidad de seducirnos con un lp lleno de potenciales hit singles en un futuro cercano 
Con lo expuesto dejamos patente nuestro regreso y la existencia de una nueva mejor banda veterana de rock and roll llamada Rebel Queens . Por supuesto no les dejamos sin la BOLA EXTRA que bien merecen las chicas y advirtiéndoles que a lo largo de la semana seguiremos con Vds Feliz Nuevo Curso Criaturil