Fin de la Semana Santa o de Pasión  y como Ave Fenix resucitado regresa CRIATURAS SALVAJES para seguir dando monsergas sobre la enorme calidad de las mujeres en esto del Rock and Roll en todas sus acepciones y géneros .Tras estos días de recogimiento , meditación y vagoneo ( los que han podido eso si ) toca volver a la acción  nada más y nada menos que con una sesión de SPANISH BOMBS que siempre nos causa el mayor de los placeres . No hay nada tan satisfactorio que dedicar al menos unas letritas a estas chicas y bandas tan cercanas a nuestros hogares y que tan nuestras son . Es por ello que esta semana ya no es de Pasión sino de Resurrección y nada mejor que las Criaturas Nacionales para servir de invitadas de honor 
En la parte que me toca voy a empezar con fuerza y a golpe de martillo pilón y que a su vez tiene como frontwoman a una de las mejores vocés del punk rock nacional que es Macky , la banda o más bien superbanda son AGAINSTERS , y estos son sus poderes 
AGAINSTERS , grupo radicado en Barcelona , es una reunión de estrellas del punk rock nacional no sólo por la presencia de Macky ( parte de los fenomanles Mostros ) sino que es acompañada de Dr Tonyina (guitarra de E150), Unclu Garrot (baixista de Zombi Pujol, Buellam…), Bolo (batería dels SubterraneanKids). En definitiva buena parte de la Flor y Nata del punk rock patrío  Su primer trabajo editado en el 2020 , es el excelso The Breakfast Ep .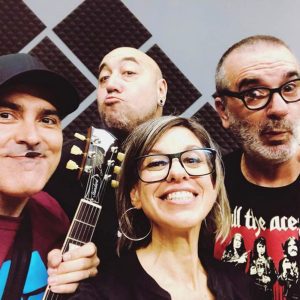 Un trabajo que consta de cinco cortes (cuatro originales  y una alucinante versión de «Eurotic Neurotic» de The Saints que nos viene al pelo para honrar al gran Chris Bailey que nos dejó en esta semana . Empieza con una brutal entrada en plan garage punk Fast Forward to Breakfast y Flaitining With You que podría pertenecer a cualquier lp de los Baboon Show , al cual sigue el  hardcore  Hardware Store El punk más propiamente dicho aparece en Evil Evil que es un brutal pelotazo que bien merece una categoria de gran single punk del año 2020 . Sin duda un debit magnifico y muy acorde a la sabiduria de los componentes 
Por fin a finales del año pasado y en un pecado mortal por mi parte no haberme acordado del mismo en los respasos anuales editan su primer larga duración , el fantabuloso SWEET SWEET WEEKEND .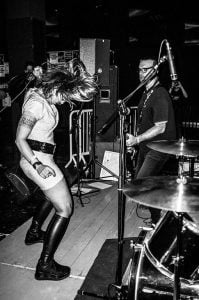 Un álbum que consta de 11 canciones propias más una adaptación de Tenement kids de The Boys. Los temas fueron grabados durante octubre de este 2021 en TZ Studio por JC Riutort mientras que la masterización ha sido junto a Víctor García en Ultramarinos Mastering.Mismo patrón y  energía que el Ep previo con más claridad en el sonido lo que permite que el mimo brille con más amplitud en todos u conjunto . Gran lp de punk rock melódico y con salña que bajo ni un sólo segundo deja que bajes la guardia llevandote al frenesi  Empieza con  uno de sus pelotazos So Clean, rock 'n' roll callejero y punk  , el otro hit es la descomunal Sweet Sweet Weekend  con su indudable gancho melódico . Para rapidos y salvajes los enormes trallazos de harcore  Super Sticky Boy» o Banana Split to Go , convertidos en verdaderos himnos gracias a esa voz y unos formidable solos de bateria.  Ye Shall Know Them By Their Fruits es parte del sonido classic punk para no olvidar las raices y la excelsa Stay Sharp, es todo  un medio tiempo en onda Clash ponen broche a una primera mitad del largo demoledora  . La segunda parte tampoco desmerece de los primeros temas pues  Would Someone Please Call the Bride to Her Room, o  Tea and Plum Pie tienen la misma baba agria y punk de las predecesoras La versión de Tenement Kids de The Boys ya referida , el hardcore punk  Illusion Of Control  o ese final lleno de coros de Communal Crush te deja rendido a los pies de este trabajo y banda 
Tras este despiece de discos inolvidables no me queda más remedio que emplazarles a la BOLA EXTRA para que se sigan delitando con esta bandaza y conminarles para visitar más Spanish Bombs con mi colega César álla para final de la semana