Y llego la hora de tomarse un descanso en CRIATURAS SALVAJES por lo que hasta el mes de Septiembre no volveremos por nuestros fueros . Es posible que no se derramen lagrimas por nuestra ausencia pero la misma es forzada por las circunstancias derivadas de este periodo estival en el cual es imposible realizar en condiciones un viaje por las Tierras Salvajes. En todo caso no les dejamos solos sino en compañía de un audio recopilatorio muy especial para que les acompañe si es menester en sus momentos de asueto vacacional 
En esta ocasión el especial va dedicado a una de las grandes musas de CRIATURAS SALVAJES y que por razones que todavía no alcanzo a ver no ha tenido presencia por estas tierras ( es posible que la inmensidad de su trabajo haya ocasionado temor al que suscribe para enfrentarse a su obra ) pero es buena hora que se le rinda el merecido tributo . Nos referimos a la diosa DEBBIE HARRY , la cual no creo que necesite demasiada presentación 
La gestación de la selección ha sido totalmente inesperada ya que normalmente nos ponemos los Administradores de la pagina sobre la tematica a destacar y así hubiera sido entre unas cuantas propuestas existentes sobre la mesa pero… cosas del destino.. bloqueo mental llega fruto del cansancio acumulado y la inspiración en modo alguno  así que el tiempo corre inesorablemente y el plazo de entrega empieza a vislumbrarse en el horizonte. Solo queda una opción que es encomendarnos a alguna de las Diosas de esta casa y pedir su intercesión , así se hizó y al menos la gran Debbie tuvó a bien  presentarse  salvando la papeleta .  Lo que a continuación tendrán con Vds es un recopilatorio de 32 temas con 30 bandas o artistas femeninas que interpretan 30 canciones de Blondie que van desde hits de la banda ( Atomic, Heart of Glass, Maria,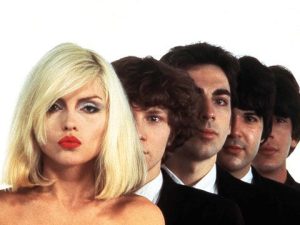 Call Me, Dreaming, Rapture... ) hasta temas meno conocidos ( Kung Fu Girls, Walk Like Me, In The Sun, …) o versiones de canciones que el grupo incluía en sus lps ( Hanging On The Telephone, The Tide is High, I'm Gonna Love You Too …) Los otros dos temas restantes se corresponden con dos temas raretes a cargo de la propia Debbie y sus chicos , una versión del clásico de los Doors , Moonlight Drive y un outtake de sus primeros años de vida ,I Love You Honey Give Me A Beer (Go Through It) pues entendiamos que una guinda al pastel no venia nada mal .
Por supuesto, pese a que el número de artistas es enorme y la confección del recopilatorio nada fácil no deban temer el ROCK es la base del elenco y las versiones siguen la línea ( es decir nada de Blondie en extraños formatos ni veleidades sonoras ) . Mezcla de artistas consagrados ( Miley Cyrus, Sussana Hoffs, Sophie Ellis Bextor , In This Moment.. ) y otros ignotos ( Tuuli, The Excessories,High School Sweethearts, …) pero todos ellos ofrecen un panorama a nuestro juicio excelso de las obras y milagros de la Diosa.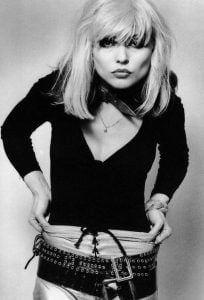 La mayor parte de los temas pertenecen a la época dorada de la banda ( 76-80) porqué seamos sensatos desde 1980 su obra más bien es pobre en calidad salvo excepciones pero que importa si ese lustro vale por más de mil vidas .Así pues les dejo con una sesión más que veraniega llena de temas de bailongeo ( Heart Of Glass,  Call Me – en versión muy especial a cargo de los metálicos In This Moment, Rapture    ), Powerpop ( Sunday Girl – esta en español a cargo de Los Romeos-. Maria, Accidents Never Happen, Living In The Reak World ..)  60s ( Denis, In The Sun, .., ) 50s (I'm Gonna Love You Too.. ), Punk  ( In The Flesh, Hanging On The Telephone, Walk Like Me…) ymás maravillas que sin duda no les aburriran ni lo más minimo 
Para disfrutar basta que le den al reproductor que se añade a este post y/o descargar el contenido non stop de la selección  Les deseamos pasen un buen verano … y hasta Septiembre
01.- Aves de Presa – Spot Harley Quinn.    02- Miley Cyrus – Heart Of Glass.
03.-The Short Fuses – Maria.                 04.-Tuuli – Accidents Never Happen.
05.- Solitary Friends – X-Offender.         06.-Sophie Ellis Bextor – Denis.
07.-Come Ons – Rip Her To Shreds.         08.-Friggs – Little Girl Lies.
09.-Battershell – One Way Or Another.    10.-The Excessories – In the Flesh.
11.-Trinket – In The Sun.                        12.-4gazm – Walk Like Me.
13.-High School Sweethearts – Living In The Real World.
14.-The Kirby Grips – Hanging on the telephone.
15.- In This Moment.- Call Me.               16.-Third Grade Teacher – Atomic.
17.-Tracey Ullman – (I'm Always Touched By Your) Presence Dear.
18.-Meg☆desu – Die Young Stay Pretty.
19.- Los Romeos – El mundo a tus pies (Sunday Girl).
20-Susanna Hoffs – Dreaming.               21.-Phenobarbidols – 11-59.
22.-Buck – Kung Fu Girls.                     23.-Danielle Stearman – I Want That Man
24.-The Chubbies– The Tide is High        25.-Shakespeare – Shayla.
26.-Parry Ray – Picture This.                  27.-Jenny O. – I'm Gonna Love You Too
28.-Lalouette – Look Good in Blue.
29.-Blondie – I Love You Honey Give Me A Beer (Go Through It).
30.-Blondie – Moonlight Drive.
31.-Elin Ruth Sigvardsson & Augustifamiljen – Union City Blue.
32 .- Emily Capell– Rapture
BOLA EXTRA  un visual del contenido del audio