Y un lunes más nos vemos por estas tierras de CRIATURAS SALVAJES dispuestos a seguir descubriendoles nuevos mundos, modernos sonidos, impactantes vivencias, próximos hits , futuras potenciales estrellas y todo ello en fémenino La semana pasada fué un variado completo, primero toco la oportunidad de THE FOXIES , con su indie rock o rock alternativo de nueva generación para en un salto mortal , el Señor Pupilo Dilatado nos despeña por ese abismo de metal y hard rock que ofrecen THE WARNING . No me cabe ninguna duda que tales propuestas habrán llamado su atención aunque si no han caido en ellas aún están a tiempo de ver y escucharlas para su deleite 
Los  futboleros seguro que sabrán apreciar la coincidencia de la selección de hoy ya que una banda de Leizpieg es la invitada cuando en un par de días el equipode la ciudad se enfrenta con el Real Madrid . Hoy toca viajar a Alemanía para otear que ocurre por aquellos pagos y presentar a una de las nuevas sensaciones del powerpop y punk actual . THE MELMACS con Bimmi a los vocales y teclado y con un parecido fisico a la de Katrina and The Waves  
Con una especie de sonido de punk rock aka Bubblegum  amplificado con  guitarras power-pop se presenta esta banda alemana con un potente single en el 2019 formado por dos enormes canciones de powerpop pegadizo Record Store/Going Out. Canciones que podrían estar perefectamente en un disco de The Muffs .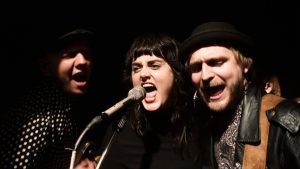 Un single compartido con la banda FCKR con otros dos buenos pildorazos con idéntico modelo sonoro ( Cannot Take It/ Do Me A Favour ) ve la luz pocos meses después pero ya en el año 2020 y ello les pone ya en órbita de la escena powerpopera y punk germana para proseguir con otros dos hits , uno Tommy y el otro una versión del Basaball Bat de la banda Voice of a Generation. Temas todos que se inlcuyen en un curioso producto The Melmacs and Friends que no es más un casette cuya cara a comprende todo lo que la banda ha grabado y la cara b una mixtura de canciones de bandas amigas de la banda 
Good Advice , el álbum debut de The Melmacs, se lanza en estas fechas  a través de una colaboración entre Wanda, Barkraufarfita y Tape Or Die Records. Rock and roll punk power pop de la vieja escuela lelna todos los segundos de este formidable trabajo  Un disco divertido como corresponde con toda buena obra de powerpop saltarín y pop punk para bailar  Formidable es el inicial tema homonimo del disco  como también es "Watch Out", "Stage Fright el power pop de Retrospective Life , ese bubblegum  que es Saturday Night con su video parodia del Bohemian Rhapsody , Planet Melmac propio de un Girl grupo  60s , la pegadiza Low Life o Carry On . 
Este va a ser uno de los mejores álbumes del año y uno de los mejores lanzamientos de power pop/punk en mucho tiempo. Si te gusta la música punk  divertida y pegadiza esta es la obra que estabas esperando para saciar tu apetito . Powerpop de tennis converse pero con enjundia suficiente para que no quede en sólo un producto de fiesta y descontrol . Para más entender al grupo les dejamos con la BOLA EXTRA para que puedan apreciar que hay mucho y bueno detrás de estos seres venidos del planeta de Alf