Y seguimos adelante con nuestro viaje por las procelosas aguas infestadas de CRIATURAS SALVAJES , una semana más. Si se lo han perdido la pasada semana nos hemos enfrentado a unos demonios salidos de los mares del Japón llamados THE BISCUITS, que a base de explotar el retro rock 50s y el rockabilly se han instaurado como indiscutibles reinas y reyes del genero por el Sol Naciente, si bien para Reinas pues una de los más amadas criaturas de estos últimos años y que lleva camino de destronar a la adorada Dorothy a poco que nos deje sin comida musical , nos referimos a AMYL que con los Sniffers ha lanzado un soberbio pepinazo que obviamente no íbamos a dejar pasar por lo que César se ha sacrificado por todos Vds y se ha marcado una reseña de esas para no olvidar 
Ya saben Vds desde nuestro viaje a Los Ángeles antes de la Pandemia hemos alcanzado buenos contactos en la industria y de vez en cuando nos chivan aquellos nuevos Hypes que están a punto de hacer saltar la banca musical , más aún si , vienen de los EEUU pues bien uno de esos chivatazos es un dúo formado por Amber Bollinger y el veterano   productor  Alex Dezen que se hacen llamar BROKEN BABY . Sigan mis pasos y comprueben si realmente merecen la pena o es otro de los muchos mentideros sin chicha venidos del Nuevo Continente … 
Broken Baby es una creación musical de la ex campeona de salto de altura y atleta universitaria de Ohio Amber Bollinger y el veterano rockero / productor independiente Alex Dezen (compositor principal y líder de The Damnwells). Como actriz en activo en Hollywood durante años, Bollinger experimentó un acoso sexual y una misoginia aparentemente interminables lo cual le llevo a dedicarse como terapia la creación musical .
No se vayan a creer que por dónde vienen y por las pintos nos encontramos con el típico estilo  grrl rock ya que hay mucho más en su sonido pues amalgama  el punk, el rock alternativo y el indie rock y son capaces de llevar a su terreno influencias que vienen desde Madonna , la New Wave Americana o el Art Pop 
Su primer Ep homónimo sale en el 2017 y ya desde sus inicios las características de la banda quedan bien definidas una voz aguda y saltarina y guitarras muy new wave de urgente rasgueo Bunas canciones como la bailarina Hurt By Heart o el punk bailable de Dont Be Rude son lo mejor del lote de 6 canciones que para ser la tarjeta de presentación no esta pero que nada mal 
El single Meat Week anuncia el primer lp del dúo también llamado como ellos y que se nos aparece en el 2018 , Sobre el disco pues es una versión ampliada del Ep con al menos tres temas sobresalientes Hello From The Other Side Of  Hell No , Why Dont We Do Anything Fun, y Year Of The Fat Man , dónde explota sobremanera ese punk con tintes no wave Un disco notable pero que igual la similitud de sonidos de los temas lo pueden hacer un tanto largo y repetitivo para oídos profanos.  Siguen a posteriori explorando esos sonidos a base de singles posteriores como Manic Panic ( el mejor de toda lista ) junto a dos versiones que definen de forma bastante obvia por dónde se encaminan sus intereses sonoros , una del Burnin'Up de Madonna y otra del sin par Private Idaho de los B'52s
Su último LP, un LP de 11 canciones, Late Stage Optimism presenta guitarras impactantes que pudieran salir de un lp de Runaways , líneas de bajo serpenteantes con toques disco  y voces principales de Bollinger que araña .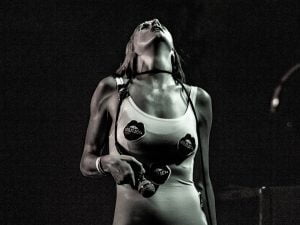 En el primer sencillo, acertadamente , elegido Get the Piss Up, ya se ve esas guitarras glam que referíamos como de rock de los 70 , base para un tema apto para asaltar las discotecas . El segundo sencillo de seguimiento,  Hand Heat , encuentra al dúo en un giro más introspectivo, incluso romántico que parece salido de un lp de  los primeros Pixies. La parte más punk se encuentra en la recuperación de dos temas antiguos Dont Be Rude y Meat Week como señalando que no renuncian a su pasado pero sabiendo que el dúo tiene mucho que ofrecer . Manic Panic , repita aquí en un alarde de sensaciones Blondie postapocalíptica ( como ellos refieren ) que se expande a temas como Die Die Die y la ultrabailable Meanic y Madonna's Dick . mientras que Cloud Average pone la pausa para contar ya cosas serias como los problemas mentales 
Un sobresaliente disco de art pop, punk rock con tintes indies y sonidos new wave cuya valoración final es que en esta ocasión esos cantos de que se trata de la nueva next big thing parecen algo justificados y por si acaso le queda alguna duda o todavía les queda algo que pensar les dejo la BOLA EXTRA para que se formen su opinión todavía con más datos