Tras una semana de monográfico dedicado al mundo  del stoner y occult rock de la mano de dos bandas sajonas de centroeuropa ,BLACK VULPINE y THE RIVEN que les insto a revisar porqué son sensacionales y con novedad para poder disfrutar . Así pues no tienen perdón si lo dejan pasar luego no se quejen de estar fuera de onda .
Regresando un poco a la normalidad no  hay nada mejor que visitar un estilo apreciado por mi persona que es el garage punk y/o garage rock en este caso practicado por una banda de Boston con dos féminas entre sus filas , EMILY DORAN  en su faceta de vocalista y frontwoman y REBECCA FRANK como teclista de la banda THE GALA 
The Gala un quinteto de Boston ha optado por un método moderno de lanzamiento de sus lps y no muy habitual en el mundo del rock y si en otros estilos musicales más dedicados a la explotación de los nuevos medios de mercado como son los streaming; así desde el año 2015 vienen sacando un buen puñado de canciones, eps, singles antes de aventurarse con todo un larga duración , el cual tras cuatro años ha aparecido bajo el título de BAD NEWS . Como verán tampoco es usual empezar con un spoiler biográfico pero era necesario recalcar que no nos encontramos con una banda novel sino que es ya esta curtida y a venido depurando su estilo hasta alcanzar con este su lp un grado de personalidad muy propio dentro del género del garage rock dónde además de los clásicos sonidos de los años 60 se le añaden a mi juicio mucho de aventureros de la New Wave USA como Blondie o Human Switchboard 
Emily Dran, Chris Kenneally, Rebecca Frank, Justin Pirilli, y Dave Pietroforte lanzan su primera canción November en el 2016 en el sello Hi Fi Hepcat Press con una excelente repercusión en las radios locales que resultan atraídas por ese bombástico sonido de garage que la voz muy nuevaolera de Emily . Un año después editan su primer Ep PUCKER tres nuevos temas Touch Me, Control y Fucker que mantienen la misma línea de sensaciones urgentes y rabia melódica apuntada en su debut
No quedan detenidos y durante el 2017 y 2018  sacan nuevos singles por via redes y ediciones locales como la impactante BETWEEN THE LINES o SEE YOU IN THE SPRING , que causan sensación hasta el punto de incluir su nombre y canciones en revistas internacionales como Classic Rock que califica a la banda como uno de las más promesas del rock para los venideros años .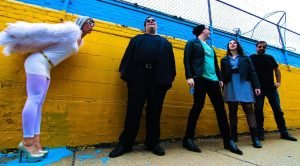 Un buen trabajo de lanzamientos y unos excitantes directos permiten a la banda editar su primer lp largo, el ya mencionado BAD NEWS, ( 2019 ) un excelente lp que tiene el glam, el garage y el punk como armas arrojadizas .
Ya la portada del álbum es descriptiva del contenido: Una chica formato comic book lanzado vómitos cargados de corazones: Melodía y Urgencia como oferta. Rafagas de punk garage en OH ABBY ,  FRAGILE, o SORRY . Acordes de New Wave  en temazos como CRYBABY , o THE SPINS  Y atómico garage rock de teclados omnipresentes  en NICOTINE , BLOOD ORANGE, o BOY . Un disco que de haber salido entre 1977 y 1980 se hubiera convertido en una preciada pieza eso es BAD NEWS. Es el 2019 pero la necesidad de recuperar las sensaciones juveniles del rock and roll es un buen aliciente para apoyar a esta banda y sobre todo a este trabajo vibrante en todos y cada uno de sus surcos
Como siempre al finalizar los posts no se olviden de que aún quedan balas en la recamara en forma de BOLA EXTRA para que puedan tener una visión más certera de las invitadas criaturas