Otra semana que se inicia y otra sesión semanal de viaje por lugares llenos de misterio y aventuras proporcionadas por nuestras CRIATURAS SALVAJES .  La semana pasada tuvimos que lidiar con el proyecto mod de los bostonianos THE CHELSEA CURVE y posteriormente por lugares un tanto más peligrosos ya que mares sonoros llenos de turbulencias y olas de ruido de tamaño sideral coparon el post de César ya que de las frías tierras suecas nos vienen los causantes de esos movimientos convulsos , GAUPA con Emma Naslund al frente. Intrincados sonidos a medio camino de un metal progresivo, atronadores sonidos doom y paisajes oníricos  en una mezcla singular e única 
Esta semana nos vamos a algo absolutamente distinto con mucho de serie b , pulp, comics de terror y retro music de la mano de una chilena que navega con nombre de banda , ella es SHERI CORLEONE y rueda bajo el seudonimo de BANG BANG BAND GIRL
Sheri Corleone es oriunda de Valparaiso (Chile) si bien desde hace años reside en Europa  Sus primeros pasos  fue formando  parte de la banda de garaje punk, Psicoxtáticos con el bateria Claudio Merlet  Estuvieron de gira por Lima y se quedaron una temporada.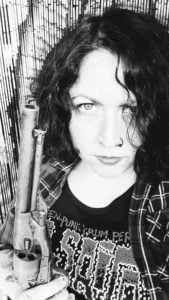 Después estuvo, desde 2012, se enroló en las filas de  los peruanos Varsovia, grupo de dark, synth-punk, para pasar a  The Ex GirlFriends, ya en estilo de  Noise experimental. También ha formado parte de Alien Bag, Raskolnikov y Los Escarabajos Obreros, formación de garage rock Tras estas peripecias empieza en el 2013 su proyecto en solitario BANG BANG BAND GIRL ( nombre salido del  hit sesentero de los Sonny and Cher )  cuando aparece en el recopilatorio "Old School Sudamericass Monobandas!" del sello argentino Scrap Metal Dealer. Al año siguiente, el sello Kizmiaz records edita un 7" con dos temas suyos, "Lies" y "when I hear train is coming". También es conocida por su programa de radio 'It's Monsters Meeting Time' y los lanzamientos con Mystery Machine. Sheri forma parte también de un dúo llamado The No Jokes con Sander Van Malssen de la mítica banda de garaje The 1,2,5,s. y ha grabado unos temas de nederbeat  con los holandeses The Beavers.
Bang Bang Band Girl sigue su periplo compartiendo  un disco con el argentino Trash Colapso editado por Trash Wax en el 2020 bajo el título de «One Foot on Death Road». Las canciones de Sheri  fueron grabadas en su propio Bang Studio con excepción de "Sweet Talk" grabada en Monophonic Studio por Bola Moreno (ex Wau y Los Arrrghs y Las Membranas) en la localidad de  Alicante.  La unión de estos dos One Person Band lejos de resultar un caos sucede todo lo contrario ya que todo guarda una conexión , es compacto y los sonidos que salen de los surcos obedecen a un mismo patrón de ruido fuzz  cincuentero "Schizo Paranoid" abre el lp y ya muestra lo que uno se va a encontrar en los sucesivos minutos : riffs ácidos de guitarra, locas percusiones y Sheri cantando cual si fuera una Hope Sandoval transmutada a Reina del RnR 50s  "Horns" es de tono más Cramps cual RnR  oscuro y pseudo gótico . A continuación interpreta "A New Cave" similar a lo anterior y que da paso a  Trash Colapso en "Apache" un extraño dueto a lo Sonny and Cher Lo Fi Garage Rock  "Shadows & Dust", retoma las características de A New wave  y nos deja a los pies  de "Sweet Talk", versión rockabilly del tema de Bunny Paul de 1956. La cara B es toda de Trash Colapso y que queda muy bien como complemento de la cara A pues como ya hemos dicho la conjunción del trabajo y sonidos es equiparable . 
Tras este split lanza un nuevo single The HAND , una versión de un oscuro tema de una banda francesa Les Sentiers de la Poisee (Frankie Sinistra/Poup) donde parece extraída de un oscura banda sonora de un film de terror para proseguir con otro split esta vez en formato de single con Mitchy Dead siendo los dos temas en este caso orientados al garage rock más clásico Midnight Cat Stomp/Fuck The Lyrics .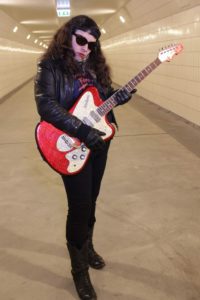 Estamos en el año 2023 y por fin se publica 12 SUPER DUPER  EXTRAORDINARY GIRL TROUBLE ROCKNROLL TRACKS su primer lp sola Basta leer sus propias palabras de promoción para hacerse una buena idea del contenido del mismo "Damas y caballeros bienvenidos a la violencia, la violencia artística, el poder emocional, la sensualidad y la fuerza ilimitada …Bienvenidos al mundo de Bang Bang Band Girl, la todopoderosa banda de una sola dama que compone y recompone, toca, canta y produce este fabuloso álbum " El álbum es como una máquina de discos los fabulosos éxitos de nuestra Bang Bang Band Girl. una pared salvaje  de Fuzz, Theremin, retroalimentación , Reverberación y una voz cálida y peligrosa pero dulce que  trae  éxitos de antaño firmados por The Troggs (Wild Thing) Wanda Jackson (Funnel Of (trash) Love) Hasil Adkins (No More Hot Dogs) Nancy Sinatra (bang bang) Motorhead (el Watcher) The Drifters (Up On the Roof) Dave Diddle Day (Blue Moon Baby) The Heartbreakers (All By My Self) Elvis Presley (Heartbreak Hotel) The Cramps (Call Of The Wighat) todo Grabado y tocado por ella misma en Rotterdam o Lima Perú salvo por la colaboración de  Walter Daniels (Daddy Long Legs, Oblivians, John Schooley, etc.) toca el saxofón en Blue Moon Baby y el Theremin de Veronik en Heartbreak Hotel . Creo que pocas palabras quedan para describir su contenido 
Hasta aquí hemos llegado de la mano de esta francotiradora de excepción sólo decirles que a final de semana volveremos con más Criaturas y que a continuación hay la habitual BOLA EXTRA para mayor deleite de todos Vds