Nuevamente con todos Vds amigos de Criaturas Salvajes. Tras una expedición durante la semana pasada por inexplorados territorios nacionales dónde hemos topado con dos enormes bandas con nuevas criaturas que mostrarles , THE NIFTYS y THE LIZARDS , que además de presentar un sensacional ropaje acreditado por un buen bagaje discográfico ,se encontraban de actualidad por sus recientes movimientos en  forma de lanzamientos , volvemos a la búsqueda de nuevas y flamantes reinas del rock en este caso dirigiendo las pesquisas hacía territorios aztecas con lo que lo misterioso , oculto, y la muerte van a tener mucho que ver
Desde Mejico aunque residente en Los Angeles NICOLE IZOBEL GARCIA se ha convertido en la sacerdotisa del garage y la ranchera algo así como una Chavela Vargas del voodoo y del rnb preñado con sangre de Moztezuma . Pese a rondar con todo tipo de cuitas y negocios por el mundo californiano no es hasta el pasado año cuando la figura de Izobel Garcia empieza a tomar acto de presencia de forma notoria. Lo cierto es que su latinidad y su atronadora personalidad llama la atención a un predicador del garage más crudo y sucio llamado REVEREND BEAT MAN, el cual tras ver a la chica le propone ser novicia en la religion del sonido garage haciendose cargo de la bateria y vocales tanto en los testamentos del reverendo como en las liturgias del mismo haciendose cargo de la bateria  y voz .
Asi en el doble disco del Reverendo Beat Man aparecido en el 2018 , BLUES TRASH, nuestra protagonista tiene varios momentos de gloria in excelsis deo , coescribiendo temas como BUT I LOVE YOU. Ese mismo 2018 junto con otro habitual de las sesiones del Reverendo, DELANEY DAVIDSON interviene a los teclados y voz  en su lp Shining Stars en la cancion WASHKAS.
Por fin el Reverendo le concede la posibilidad de ser primus inter paris y toma ya los hábitos convirtiéndose en Hermana si bien llegara  Papisa va  a ser cosa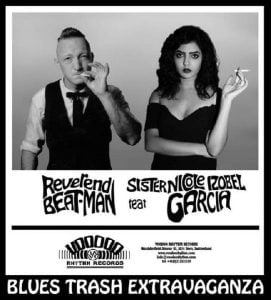 de muy poco tiempo a la vista del lp que acaban de sacar cofirmado por ambos bajo el título tan latino y certero con las raïces de la Hermana de BAILE, BRUJA , MUERTO 
Baile sin tregua en VIVA LA FIGA , una perversión del Viva las Vegas con  locura mariachi , desmadrado garage de corte muy subterraneo en COME BACK LORD, deconstruido soul en I LL TAKE CARE OF YOU, metal cubo de basura en la versión de Venom, BLACK METAL, ahora bien si de verdad hay unas razones para amar este trabajo las encontramos en la versión del clásico de Chavela Vargas MACORINA, reconvertida en un desert rock mariachi, la versión oscura del LOVE ME TWO TIME, y los dos temas firmados en solitario por nuestra invitada una crampesiana I NEVER TOLD YOU y la misteriosa NERVIOSA, cual Nico Zombie de cementerio Mexicano con los teclados hipnóticos de Izobel sin olvidarnos de esa historía de amor eterno cantada en alemán cual Cave/Minogue de celda húmeda y podredumbre que se llama HAREMOS EL AMOR. apunten pues ese BAILE BRUJA MUERTO como lp criaturas para que lo devoren Vds con gusto más aún con la llegada de los Carnavales
Antes de despedir a mi Papisa en ciernes simplemente dejarles con un poco de BOLA EXTRA cual burrito relleno de regalos